I just finished up working…
My day started at around 8 am.
I missed the first bus and waited for the next while also reading a document at the bus stop. My first ever work at a bus stop!!!
Then I attended a long meeting. It at least had food and continuous stream of coffee, so that I could wake up after an hour or so. The meeting had many speakers and was interesting, but eventually I could not take it anymore and left early. I am not sorry!
I came directly home and worked, worked, and worked until this minute. When there are too many things to do all at the same time, when I cannot finish things at a time that I aimed for, and when time-crunches on me, I just feel inadequate. This feeling does not help. Luckily I have learned to ask myself what I was feeling and why. This exercise helped identify the cause of the stress I have had. I calmed down by reminding myself that this was not the first time I have found myself in such a situation. 
Eventually, I decided that I could do this even though it would mean that I would have to work till midnight and sacrifice "me" time. My other alternative would be to have "me" time tonite, which would mean I could find myself in the same situation tomorrow. And the next day to come. And so on…. The right choice was clear.
It was an epic struggle but I am happy to say that eventually I have done it.
Now I am gonna eat something.
Good night everyone – may you never have to sacrifice your "me" time..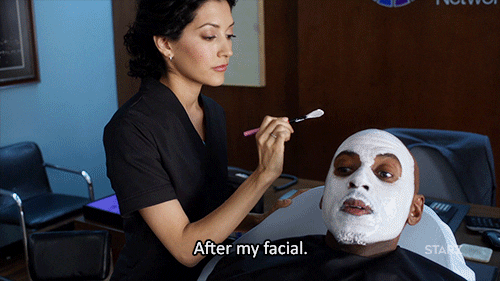 ————-
gif by:https://giphy.com/gifs/blunttalk-starz-season2-3oz8xKWv8mTc7TppGE