I keep getting up early.
I was up at around 8 am this morning. When I wake up that early, the day is so long that I can do everything in it. Like today; I got breakfast, cleaned my home, did laundry, talked to my family, walked to my office, worked like 4 hours, walked back home, cooked meal, and prepared my sourdough for tomorrow. Now, I am chilling.
Wohoo! 🙂  This is a lot of things to do in a day without getting bored or stressed. Yep – I did it. I did all of these without getting bored or without getting stressed 🙂 What a blessing.
Everything was nice and easy today. Cleaning was easy. There was only two loads of laundry. It was too much windy but I walked 30 min to office and then back to home and enjoyed every minute of it anyhow; the work I have done at the office was great – I did not stress myself at all. I just worked without any pressure and I did really good. 
Overall, I could not be happier and excited about getting up early, finding a long day ahead of me, and being stress-free! 🙂
Hey, maybe I will do that again tomorrow 🙂
Tomorrow is my bread baking day. Every loaf is an excitement – after all, there can not be another copy of a loaf. Each one is individual. They cannot be replicated 100% – no matter how hard we try. That is why each Sunday I have excitement guaranteed – "how will this loaf turn out?" What an exciting question! How nice to have this excitement every week.
I am so lucky.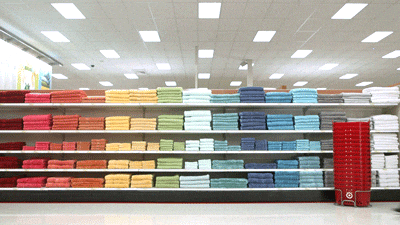 gif by: http://giphy.com/gifs/target-bullseye-targetstyle-l3q2BPxYGUL34DCgw