We are waiting for yet another storm in a couple of days and naturally I shopped this evening and stocked up some fruits and veggies.
I am not looking forward to this storm yet; I am not interested in shoveling, not going to office and not taking care of the work, and spending another day inside. 
But what can I do?
Nothing much. So, I may as well choose to enjoy it, should we get another snow day or two. As a matter of fact, I think it will be a good opportunity to try sewing a simple blouse again. We shall see how this will go.
—————————————————–
There are talks about "firings" to happen in my organization. The provincial situation is really bad and it shows itself in the lay offs. The morale is low and the future uncertainty and the fear of being without a job or its benefits are giving me a chill. I feel for the people who are laid off so far. Sometimes I think if that to happen to me, rather than feeling saddened by it, I should gracefully accept, collect myself and my belongings, sell my house, and go for a trip for a year or so. Just to find myself; just to figure out what I want in life. What I need in life. Without too much of thinking – like I have always done. Freedom should feel good. It always does.
This being said though, I would not like to lose my job. I do not wish to lose my job. So, I hope this kind of freedom will have to wait till my retirement. 
Since the current provincial government is pretty interested in increasing the taxes, firing people, and reducing the contributions for important services, such as schools or hospitals, our future looks pretty gray, including pension plans.. One wonders how this government could take such extreme measures and created such a depressing outlook for our current life and the future one? This feels so surreal; not having the safety/security and hope for our future while we put 100% of our minds and hearts in to our works and the daily economy. I am very disappointed. Perhaps it is for the best if they let us go and we find jobs and lives somewhere else. That crosses my mind so frequently. But, I should stop giving the wrong messages to my subconsciousness. I like my job and I would like to stay. I do not wish to lose my job.
Looks like my mental judo about the prospect of bad economy, seemingly impossible retirement, chance of being fried, and a currently secure/safe job, and my need for it and everything else it does bring (salary, benefits, a sense of meaningful life and efforts) will continue some time. I hope the future will bring positivity rather than desperation.
I want to continue to like life.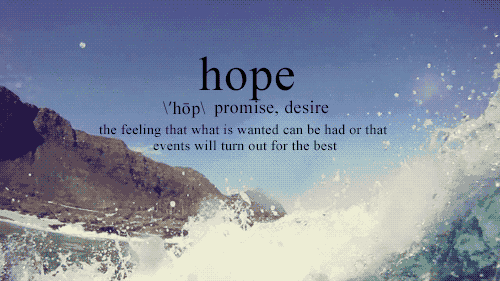 gif by:https://giphy.com/gifs/text-sea-hope-dR5icsXEyxlAs