I continue to be excited after the thrift store treasure I hunted yesterday 🙂
I keep thinking; is it becoming more of a normal for me to shop at thrift stores? 
There are two thrift/donation stores at walking distance that I seem to visit frequently only lately. I am not comfortable with the idea of buying shoes, undies, trousers/shorts, sleep wear, or any other personal items (like towels or bed linens),  but shirts, blouses, jackets, sewing notions/fabrics, and books are okay.
I still seem to be reluctant "to be seen shopping at these stores" (talking about social pressure that I need to deal with in my own mind…) and to buy things that will give me an urge of "cleaning intensely' before use. No offense meant to anyone with the latter point – I know it is just a personal thing; realistically any of the items at this stores can be cleaned and used, and I have not heard of a case that a serious harm occurred because of an item purchased from a thrift store. In contrast, in terms of limiting waste, recycling, reusing, and protecting not only the natural resources but also the unfortunate and poor, I am clear that it is the most responsible thing to do. Also, the variety is much better than any store we have around here and prices are very, very reasonable. I have not passed that "cleaning" stuff just yet. Anyways.
I was thinking; then why did I not do that before and shop at thrift stores?  
I have no answer to that, other than the fact that I think it just fits my current budget and life-style much better than before and I do see an additional personal benefit in terms of the excitement of browsing the stores (there is always something new), finding something that I can really like (and I mean that – the three blouses I purchased lately are incredibly exciting for me to have and wear), and the ability to purchase them without breaking my current lean spending plans (three blouses cost me 13 bucks so far….).
When was the last time I was so excited about something that cost me so little?
You got it.
——————————
It is a kind of gray and rainy day. Nevertheless, I enjoyed a short walk in the morning. The winter has been hard on us but nature is awakening with trees getting greener and the air feeling a little bit more fresh, more Springy… I am really excited about walking becoming so easy and second nature to me. 
I want to do better with my yard this Spring. I would love to have a herb garden and some nice flowers. We will see how it goes, but today I am proud to say that I planted 6 potato which had sprouted in my kitchen. My mom advised me to cut them in 2 or 4 and plant in the yard 5-10 cm below the surface. I have done this and i hope that I will see them grow into more potatoes 🙂 I have also planted the roots of fresh mint that I had purchased this week. I really would love them to survive and thrive – so far I was only able to grow mint and peas in the last 3 years…..
Let's cross the fingers my friends 🙂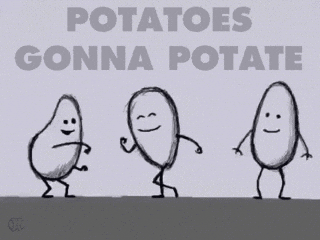 gifs by:https://giphy.com/gifs/flowers-spring-6vg3kRY0Jk3Go;https://giphy.com/gifs/tmi0F8ojXMvvO