There is a nice cemetery somewhere like 20 min away from home. I used to walk to visit it time to time before I moved to my current home – my then-flat was very close.
It is a perfect reflection of life; there is a combination of old and young tombstones; big and little ones; single and family ones.. There is nothing nice about death, but there is such a nice feeling of knowing that it is peaceful there. And that we are still alive and have a chance to make the best out of our lives. However miserable our lives may look, we still have it and all the opportunities it can offer us.
I used to be scared of cemeteries when I was younger. After all we always visited the graves of our loved ones; family mostly, and there are so many horror stories/movies we grew up with. I visited my dad's grave last year; I was not scared but I was immensely saddened….  His name was on a tomb. So saddening… But it was peaceful, too. He lies in a beautiful grave yard, under the branches and leaves of beautiful trees, and away from the hassle, chaos, and noise of city centre. I still remember the voice of the trees; the soothing noise their leaves make when the wind goes through them…. Trees are so magical and there is nothing more soothing than having them at cemeteries.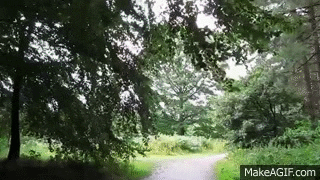 When I woke up this morning, I was excited to see the bright day out and decided to walk. I bought myself a nice cup of coffee and bagels at a cafe and then I walked to that cemetery. It changed a little bit since I have been there last time. There is now a couple of sections for the ashes. There are more seating space. I sat on one of them today for a few minutes. I asked "how do I make the best out of my life?".
I did not have an immediate answer (from my subconsciousness, certainly not from the souls lying in the cemetery – I am not superstitious). But I sure am reminded about all the opportunities I have at life. My life.
gif by:https://giphy.com/gifs/make-trees-blowing-cqacgfUaOzlPa