I mentioned in an earlier post that I studied for a very long time, and as a result I had very modest income and thus life style until ~10 years ago. So being a frugal person is a second nature to me. However, in no time in my life I have been as frugal as this year, or a two years period a decade ago.
A decade ago, work was really competitive, things were going really problematic with my boss, I was fired twice (even though I was re-offered a better position in the same place and never had a day without being on payroll), and thus I realized if I want to keep my chin up during financially turbulent times, I had to be extremely frugal.
So what did I do?
I moved into a smaller and cheaper studio apartment, leaving my gorgeous one bedroom apartment on the 20th floor of a downtown complex. It was located 3 minutes away from my work-place; had swimming pool, exercise room, and other amenities; and the apartment had a wonderful downtown view that was always a delight to look at. It was a also secure building. It hurt to move out but it was the right decision.
The studio apartment was 20 min away from my work-place and the apartment complex was nothing like the previous one, but both the apartment and the building were okay. It was a slightly less secure street but nevertheless I was comfortable there. I spent two years in that apartment. I remember very clearly counting on pennies in my purse and making calculations. My very ambitious weekly budget was $50 at that time…..
I do not know how I ended up with this amount, but honestly I made extraordinary effort to keep my weekly expenses (including grocery, personal care and cleaning products, and other miscellaneous expenses) under $50. This budget was extremely restricting at that time – I remember this feeling pretty clearly. I believe I could never manage to do so; my weekly expenses were always more than $50.. I think there was no movie or concert ticket in that allowance. My maximum book budget was $5/week (and I bought books every week). Eating out, hosting, or meeting with friends were a rare occasion, even though I lovingly had my favorite weekend breakfast consisting of two bagels and a cup of coffee. I could never think about a weekend without this breakfast 🙂
While I struggled with keeping my expenses under $50, I also saved quite a bit of my income. I put the money I saved into my RRSP account. I know I was locking it this way, but this gave me an enormous peace of mind at that time. I felt really good and proud of this investment for my future. Unfortunately at around the same time the markets had a bad time (remember 2008 turn-down?), so I think I mostly lost money at that time, but that is not the point 🙂
This year I have a similar budget, only that it is designed in a different way. My weekly allowance is 120 bucks for grocery; not including the personal care and cleaning products, hosting and eating out with friends and colleagues, and house-related or other expenses. If I average all expenses I made, I believe it could be ~$130 per week this year.
Not bad, eh?
It also does not feel restrictive. 
I kind of think that this might be because I budget a reasonable amount (that is $120/week + additional expenses) and I have the flexibility. It may also be because I am a seasoned frugal now?? 🙂
Have a great Friday night everyone 🙂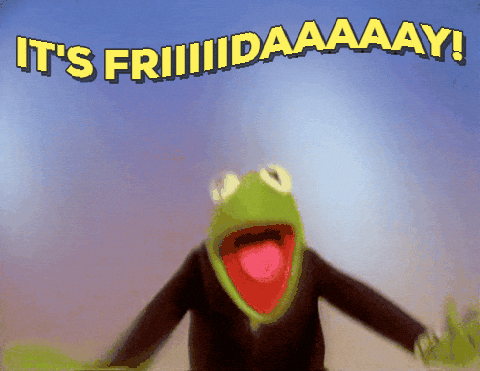 gif by:https://giphy.com/gifs/justin-friday-kermit-3oEjHKjVoNVsCeMoDe