After 6 months or so, I did some back and ab exercises yesterday and today I feel like my big belly has shrunk! 🙂
I am serious 🙂
I know I did not lose whatever fat I have but I must admit that the ab muscles do an awesome job keeping things in place and firm once they are active. 
My belly is all tucked up very nicely and my posture is a lot better. I even feel taller.
You know when the abs are strong and supportive, these are all expected to occur.
I used to be physically very active and quite muscular in the past, prior to starting my current job. I know that muscles have their own memory and they are quite forgiving. So if you want to remind your muscles how great they can be, go ahead, take a walk, lift a weight, or just find a way to use them. You will know the difference.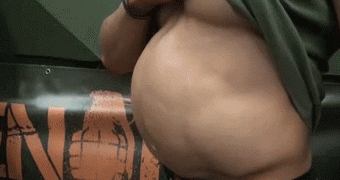 —————————————
I have had a good day today. I got up at around 9 am, did the laundry, talked to family, and prepared an interesting dough (sourdough with kefir – cannot wait to see how it will turn out tomorrow).
I wanted to get out and buy some sewing notions but boy, do we have a rainy day? It is raining cat and dog, and I hope tomorrow we will have a better day. On the other hand, I am grateful that it rains – my yard and seeds/plants needed it. Had I mentioned that I have potato plants? Yes, I do and this is such a fantastic feeling! 
Anyways; back to sewing. Sewing relaxes me, even thought I am not sewing frequently or with confidence. Nevertheless this afternoon I felt like I needed to sew (that is a strange feeling; it is like the need to eat… the need to sew… strange but true…), so I have sewn two simple pieces of clothes to be placed over my washer and dryer. They are cute but can be cuter if I can find nice ribbons (which I hope to find tomorrow). They will keep the dust away from my machines and also make that area look a little bit homey. My washer and dryer are in small room with boiler, ventilator, and garbage bin, so this area does not traditionally look or feel nice at all. But after these cloths it feels a little bit better. I also am interested in sewing a nice cover for the garbage bin – maybe with a flowery fabric so that it may look and feel better too! Many can find this idea weird, but I have been meaning to do this for some time and I believe that it is gonna look cute, so I am all for it 🙂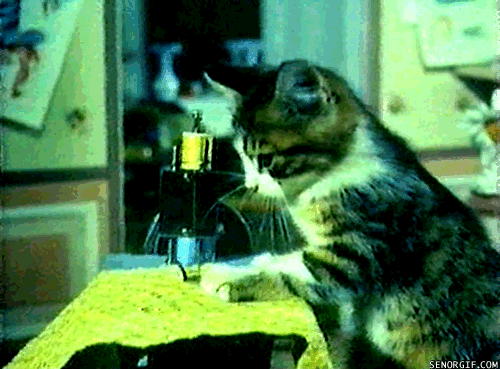 ——————————————
gifs by:https://giphy.com/gifs/DN3OODfhEOHu0;https://giphy.com/gifs/kittens-because-quQijRpxpy7UQ