I have started to have grey hair quite young (in my late 20s, early 30s). Since I started this current job almost 9 years ago, it has been getting worse. I believe more than 50% of my hair is now grey. I have been dyeing my hair regularly in the last 9 years and I can say that I forgot the real shade of my hair. More than that, lately I started to need dyeing my hair every two to three weeks. Boy, who has got time for this. Also and more alarmingly, what the heck is happening – why needing so soon?? 
I have been meaning to stop dyeing my hair for quite sometime, but it was my mom and sister who convinced me otherwise. They think I am too young to have grey hair and I agree, but the current situation states otherwise. I am one of these people who have prematurely grey hair I think it is time that I embrace it.
I hate seeing my hair half dyed half natural, so I will go to a hair dresser, a good one who is not afraid to cut it short!! (see a previous rant), show her or him some pictures as inspiration, and will get a dark grey colour with light highlights so that my grey hair can blend in well.
I have one last bottle of hair dye of the current shade that I plan to apply in the coming weeks. After a few weeks after that, the time of the grey hair will start. Let's hope I can find a great hair dresser, can wear the grey hair well, and my clothes are compatible with it.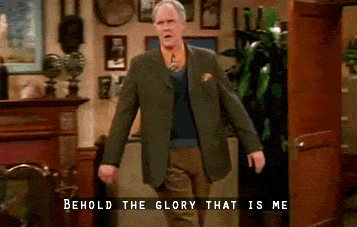 —————————————————————
gif by:https://giphy.com/gifs/embrace-eAKJZUfttZefu