Here is my hair after 6.5 weeks of first highlights and dyeing my hair close to its natural colour.
Highlights finally show up, which is a blessing (I am still fuming about the invisible highlights right after the hair salon visit).
My hair grew like an inch.
Between grays and highlights, there is a dark stripe (the dye applied last time, which gives an additional oddity to this hair…).
Honestly this hair does not look good at all (why did I not at least comb it before taking the pic?)….
The roots are annoying but not as much as before – I think the hair dresser was right – after a while highlights help soothe the gray roots. Only problem is that now I have my natural colour (dark brown), latest dye (lighter brown), grays, and yellowish highlights in addition to previous hair colour of red!
More is better!!
Argh.
I have an appointment in two weeks to get it dyed again and hopefully with better highlights this time. I would love to have wider streaks of platinum highlights to help with the gray hair coming off the roots. I hope this dresser will be able to give me what I want. Honestly, I am not very hopeful, but I will try as much as possible to demonstrate (with pics from internet) what I really want and expect.
I must say despite everything, this is a much better feeling than previous.
I previously very much disliked seeing the gray roots after 2-3 weeks of dyeing. Now it is 6.5 weeks and I am feeling okay with the roots. This is I believe because I have much bigger problems in that hair than only the gray roots…
I know this is a long journey to take up to a year, but I already have had the first 6.5 weeks, so I want to just keep going and get this transition done.
Wish me patience please. Because I may as well chop the entire thing and start from fresh!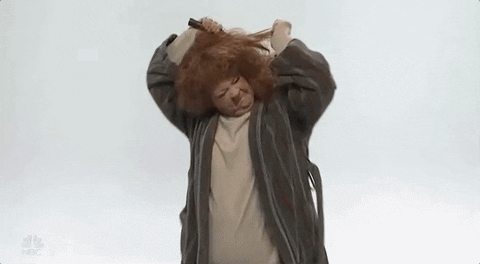 —————————————————-
gif by:https://giphy.com/gifs/snl-saturday-night-live-season-42-3oKIPnS9hjxxDB1FtK