I read somewhere today that being a mentor/teacher means first and most being generous.
You know that I have been kind of self-centered lately, trying to keep my head above the muddy water,  and trying to care for my own wellness and work-related development and performance.
In the last few days, I have been feeling much less stressed and ready to take new challenges and tasks. Today one of my team members reminded me that before new challenges, I must turn my efforts to the development and progress of my team members.
My team members are all young and doing very well themselves. The intricate details and expectations from our work necessitate intensive training, however. That is why I spend a lot of time, especially in the initial years of my team members, to teach them. It is demanding and over time gets frustrating, but we all do well at the end. I have been doing much less of such training lately than before and giving independence to my team members. I must say some of them flourished during  this time, some of them are lagging and require my support and push, and some others do great, have incredible potential and character, and can do even more excellent if I side by them. The team member of mine who reminded me today to be generous with my time, support, and effort is of the latter type.
She is visiting my team for a short term. At first I was not overly enthusiastic, but I can see I was wrong. She is independent, very smart, and very enthusiastic. The work she has been doing is new to her but she grasps the concepts and does the work nicely. Today she brought me a gift (an inexpensive – thank goodness – but unique item that came directly from heart) to express her appreciation of me as a mentor and I was speechless. I do not accept gifts from my team members, but rejecting her gift was upsetting her very much, so eventually I decided I would accept it with the condition that she would never give me a gift again and I would get her a gift myself.
What bothers me is that I at least for five minutes drilled her for getting me a gift (could I not just graciously accept it and make her feel good at least?) and she got me a gift because she thought I was a great mentor (me??)…. I had not even spent enough time with her and with her work! How could I do that? Why was I so self-centered and did not care about her development as much as I normally would? My consciousness is bothering me big time.
From tomorrow on, I will start praising and further supporting the team members who are doing well themselves;  I will start tightening the work schedules of others who are lagging without my push or support, and I will find extra time to further train and develop the team member who reminded me that generosity in terms of sharing my time, expertise, and wisdom is the best I can provide and what I should exercise as a mentor.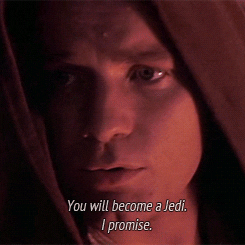 ——————————————
gif by:https://giphy.com/gifs/star-wars-obi-wan-kenobi-anakin-skywalker-yFTEVvsVh6ceI