I am not sure whether I am struggling with my career or just growing.
It is sometimes hard to know, my friends.
I know I am struggling; I work harder than ever and trying to do many new things all at the same time. It is exhausting, stressful, and requires enormous amount of energy and focus. I do these because I am capable of doing, but the real motivation is the increasingly toxic and criticism-filled environment that makes me feel like I am not worthy and dispensable. I guess I am trying to show that I am not; I am a valuable and contributing member of my work-place. Even I say so now, I, the worst critique of myself.
It is strange writing this here – the real motivation after my over-work is being my frustration towards my work-place. Very counter-intuitive, is it not?
I think I must accept the fact that I had lost, and I am still at lost the majority of the time, my self-confidence in this position. The negative attitudes at my work triggered a reaction to turn things around. That is why I am working so hard and taking new roles. With each work and role accomplished, I gain confidence. Or, may be this is just an illusion. Hard to know….. But if it is real, then this hardship has been incredibly useful for me! 🙂
————————————————————————————————————–
I am also growing. A lot changed in me since last year.
I am detached to my work-place and with each blow or slab to the face this detachment is growing. This is strange but also liberating indeed. It forces me to re-evaluate my wishes and my wants, and somehow forces me to think outside of my current box. Just yesterday I realized I could move to another country for work. Would it not be terrific? A new country, a new city, a new apartment, new bakery, new neighborhood, lots of plants, tall windows, people and lights in the street day and night. Energy, change, excitement, new experiences. Wow – that is a great picture!
I also became more assertive since last year and I am good at saying no now 🙂 Well, at least better than before. I can also express myself and my frustration better. I can keep my stand better. This is lovely.
I also care much less about things that I would otherwise do; mostly related to work and work-related recognition. Less stress, less anxiety, more room for more important things. I hope.
————————————————————————————————————–
There is an apparent duality in my interpretations of these experiences, like in anything else I guess. One can argue that it is a point of view. Maybe one day I am struggling and maybe next day this experience makes me do something, which grows me (like the job application I made in Europe yesterday). Maybe it is all struggle and my mind finds some kind of serenity in finding/believing in positives (in order not to lose it).
I do not know really. Only time will tell. Right now, I know that I both struggle and grow at the same time.
It is a delicate balance; if struggle gets worse, the balance will tip down on this side and I may sink deep. If I grow, the other side of the balance will lift.
My aim is to lift myself up.
The balance is still unstable though. So, my struggle to end this struggle (what an irony – I need a new struggle to end another struggle??) is continuing. 
I am tired. Yes, I am. But I keep going.
I think I am giving a good fight here.
🙂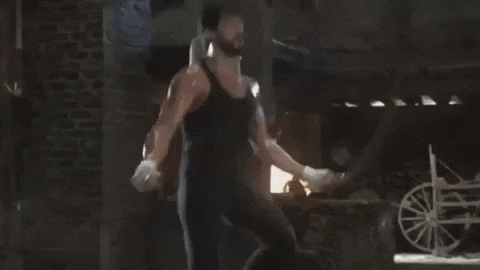 ——————————————————————–
gif by:https://giphy.com/gifs/rockymovie-movie-rocky-sylvester-stallone-d2ZfqZY5eSCR0rza