🙂
I love the serenity and joy that having some "me time" and reading positive news/affirmations and thinking that there is truth to these, bring.
Reading and thinking about positive things and possibilities, indeed are healing and making me feel more in the life and enjoying it.
I came to realize that not everything was a hurdle or difficulty I had to go thru, but rather there were many beautiful things that were happening and awaiting me to recognize them.
Today the most sweet of all was to recognize that there were many opportunities out there (whether work or personal opportunities is irrelevant) and if I had wanted, I could reach them. I in fact have been reaching to some of them lately. Like the additional position I have got lately. I wanted it, genuinely, and it just fell on my lap after a year or so. I feel lucky!
And today, I was just walking to help warm my muscles and found out a yard sale in my neighbourhood. I managed to find a great book on self-development that I read with great interest and a pot that I have loved dearly 🙂 All for a couple of bucks. I was one happy and lucky person again, all by chance again! Should I not have wanted to walk at that random time, I would have missed this beautiful opportunity.
Sometimes my friends, we just need to show up and life will deliver to us. This is a fact.
If we look, we can see.
I am looking at life now and am excited about all the great things it can bring to me. I am ready to reach, savor, and be grateful for them!
I am lucky.
I choose to have thoughts that empower me.
I choose to have "me time" and read and contemplate on positive thoughts.
I choose to believe that I am capable of reaching out and succeeding in life and at work.
I, my friends, am choosing to bless these thoughts and the mental state "me time" can bring.
*me time: not working or using computer. Rather just sitting and making it a priority to go through my thoughts and make conscious choices to switch to joyful ones – try it 🙂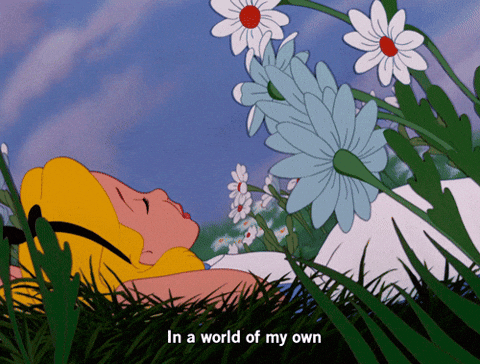 ————————————————————————————————————–
gif by:https://giphy.com/gifs/flowers-alice-in-wonderland-movie-ITWHqTA2TtOqA