Good morning everyone.
🙂
It is Sunday.
Does it make a difference that it is being a Sunday in an epidemic when we self-isolate?
It seems it makes a difference in me. I just slept in a little bit longer today after I remembered that it was a weekend. No matter what, the work continues to rule our lives, it seems.
I am one of these individuals whose work-related stress went down with the self-isolation. I was speaking to a long-term friend yesterday. She said that it has been good to people like me who were always rushing, rushing, rushing. Now we all have to sit back a little bit. She is so right. Do you feel the same way?
Do you feel you have slowed down and had the chance to notice other things about life? Yourself? What is and who is important?
There are unexpected gains due to this COVID-19 pandemic.
This is of course quite insensitive to say when there are thousands of people who have lost their lives to this disease. Or, lost their wages and jobs……
They say that our lives will not be the same even if survive this disease/pandemic. I would like to believe in this. In a good way.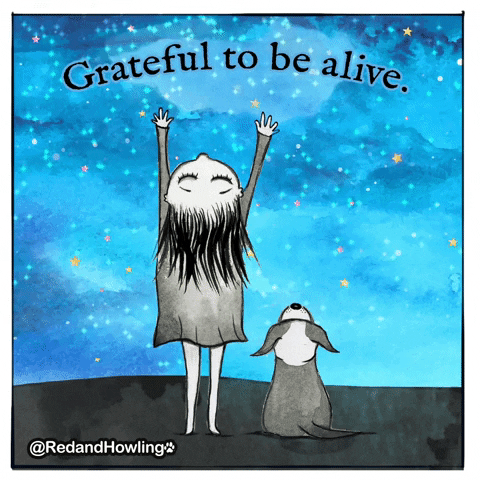 ——————————————————————————————————————————-
gif by:https://giphy.com/gifs/dog-grateful-dogmom-jslqD89flMlWrKUZsT