Let me tell you something about the X-Files.
I am currently on Season 7; why have I been watching The X-Files in the last months or so? 
Mulder and Scully – that is all. I like the characters and how they complement each other like Ying and Yang.
But the stories do not attract me: I do not believe in supernatural. I do not believe in E.T. I am more like Scully, I guess.
Only things that really attract my attention are the personal struggles and pains of the two characters; I like it when the stories are around them.
However; I do not know what to think about the romantic moments between these two characters that are scattered here and there. Nothing serious up to the Season 6 yet, but a new year's kiss (somewhere in the Season 6 or 7) somehow threw me… Thankfully this moment was only temporary (although beautifully executed; you would swear that these two were in love so deeply and so unbelievably), as the next episode had no romantic or close encounters between the two. Like nothing happened and it was an everyday encounter…. Meaningless and weird stuff.
Anyways, I do not know whether I want it for these characters. I know that in the future episodes/movies they get together and then they broke up. There is a child that is likely to be Mulder's and Scully's. Looks like it is a natural extension of trust, years of watching each other's back, saving each others arses, and sharing personal moments (like the deaths in Scully's or Mulder's family) that bring these two characters together. 
If you ask me, the romantic part between Mulder and Scully was unnecessary.
It is because it was like growing to love someone rather than falling in love.
I somehow prefer falling in love than growing to love over a period of time because the last time I did this (a thing, not a person), it took me 15 years to love!!!!!!
Love should be spontaneous. Un-calculated.
I know many people will reject this idea, but this is what I believe.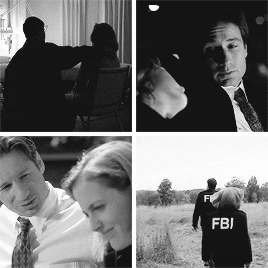 ——————————–
gifs by:https://giphy.com/gifs/mulder-and-scully-1zEE1H8oHvsGI