This week has been so fast!! 🙂
Monday; we have had a whole day professional event. It was not fun to sit whole day, but being away from the office and listening to talks were interesting and engaging.
Tuesday: we met for a lunch with my team and enjoyed the entire afternoon at a cozy bakery/cafe, talking, laughing, and eating/drinking. It was a lot of fun!
Wednesday: boy, that was yesterday. What exactly did I do? I cannot remember. It must be another busy day. I was sleepy in the evening and went to bed early. That was good for me – I took a good rest.
Thursday: today was a good day with a 3 hours afternoon meeting. I went back to office and took care of some stuff after that. On the way back, I did my grocery shopping. This week I have a lot of food left from last week, which I want to consume. That also reduces my weekly bill for this week. I am happy about this because I have had some extra expenses this week and my saving was reduced as a result.
——————————————————————-
Today is also the end of my weekly budget week. I will not have a separate post about it today, but it was good again; I did not over-spend, and saved quite a bit. I am very pleased.  🙂
Overall, I have reached a milestone at my chequeing account level this week. That feels terrific! I have some payment coming up in 5-6 weeks and I was saving for this since the new year. I am glad that I was able to save money so that my chequeing account will stay at a healthy level even after I make these payments. 
I am happy to say that I have walked everywhere this week and did not take the bus or cabs 🙂 That is a great feeling – I am energetic and self-relying 🙂 I am grateful for the weather for being cooperative.
And thanks to business functions, I have eaten more than 10 different food this week compared to the last week 🙂 
So, everything worked out really well 🙂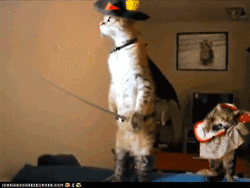 gif by:https://giphy.com/gifs/cat-weird-puss-in-boots-pfhdDIOWiYXaE