I cannot believe we have reached to the end of February!
This year has been passing quite fast. It is hard for me to believe that it has been two months since the holidays when I had 2 weeks off.. Wow! Two months…. It feels like yesterday!
The nice thing is that the three months of our winter has passed. The Spring will be here in May – that feels good 🙂
We will also have the daylight saving times reversed sometime in March – that means we are looking for lighter and brighter days ahead. That also feels good 🙂
This winter has been harsh here in Canada, my friends. We have had a lot of snow days 🙂 It has also been interesting: for the first time in my life here (around 8-9 years), I have walked in the morning to the office from home in winter. I think I have done that in January first and, now, whenever I can, I am aiming to do so (like today)…
What a sense of freedom it gives me and what a great way to relax my mind and work my body. I am awed that I am not afraid of ice or falling this winter (which was the reason that stopped me from walking in winter at the first place).. Change is always possible I guess….
That experience also tells me to question our assumptions and decisions, even though they are comfortable. Perhaps they can be re-assessed and reversed, and the new normal would turn out to be exciting as my winter walking adventure 🙂
Nowadays I particularly feel like walking. I blame partly boredom and partly the fact that I get up early, and as such, end up with having lots of time at my hand 🙂 I walked last Saturday and Sunday around 2 hours each day. And I am planning to walk similarly this weekend. I hope I can make this. My plan is to walk to the shopping mall on Saturday, just to grab a couple of tubes of yogurt 🙂 Let's see whether the weather will be permissive (if it is raining or heavily snowing, I will not certainly do this 🙂 ) 
Since I walked this morning and did not take the bus, today was also a day that I spent nothing! 🙂
Is that not awesome 🙂
I never thought that that would be possible, but now I can see that I was not thinking careful enough – it certainly is possible. Anyone can do this "no spending days". Give it a try, my friends, and let us know how you feel. It certainly feels weird and sweet at the same time 🙂 🙂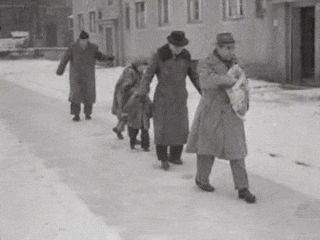 gif by:http://giphy.com/gifs/europeana-winter-Q3cJvgxtBUtqg