It has been somehow stressful day; I have so much to do! 🙂
Yet, I also felt like I could use my time better and I could award myself for doing well as well. This is really lovely – I think I have started to support and value my efforts a little bit better. Self-care is here 🙂
One thing I am doing this week is to cancel showing up in events that celebrate the achievements of my team members. It was a hard decision to make, but I am glad I have as it gives me the much needed time. It is a first too. I talk to my team members and they understand the reasons well as well. I would think this was selfish, but maybe I should be a little bit. In order to protect my time and reduce my stress levels created by the lack of time to recuperate.
I have been to my counseling session yesterday. I talked for 40 minutes. How lovely 🙂 Was I reserved? I was. But I also talked. I did not get a huge number of new thoughts/realizations out of the session that I did not already know -main points were:  mental health is important; I worry all the time; I am not interested in getting medication for anxiety or depression unless it is the last resort; I am close to burn out because of the intense work and stress (my counselor's assessment); I must eat better; and I must exercise. And, time to care for myself – physically and mentally.
It is always good to hear from someone else that I must care for myself. This makes me feel supported in my decisions to not attend extra events this week and the weeks to come. This does not mean that I come first all the time, under all conditions – that would be selfishness and being self-oriented. It means my wellness should come first.
I like that.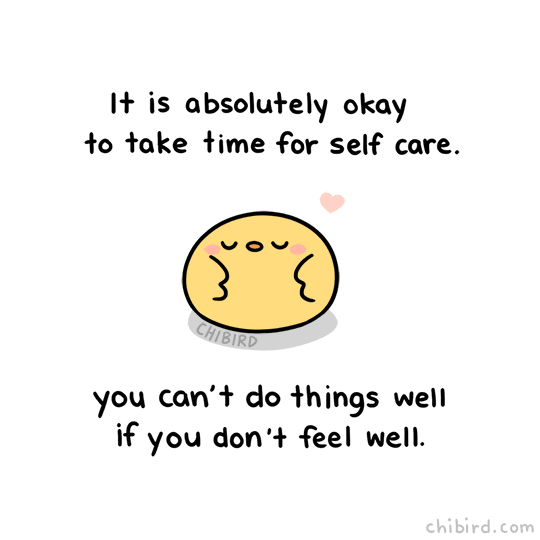 —————————————
gif by:https://giphy.com/gifs/art-cute-okay-3oxHQjb3brk6dOWBGg