Hello everyone,
We have a gray and rainy Sunday today. I am nevertheless grateful that I have that day to myself.
I needed to work whole day yesterday at a work-place function. It was exciting at first but got tiring in the afternoon. I decided that I could take Friday off, in lieu of the Saturday. It immediately relieved some of my frustration and tiredness associated with working on a Saturday and limiting my time to recuperate.
I also noticed that this was unexpectedly good of me – to be taking care of myself in this way, by taking time off work. I am proud of myself. Looks like my work is not the most precious or prioritized part of my life anymore, and I care about my health!
Lovely indeed 🙂
——————————————————————————————————————————————
The gray weather somehow combined with the clocks being taken 1 hour back today, makes it an extra gray day… Do you feel the same way?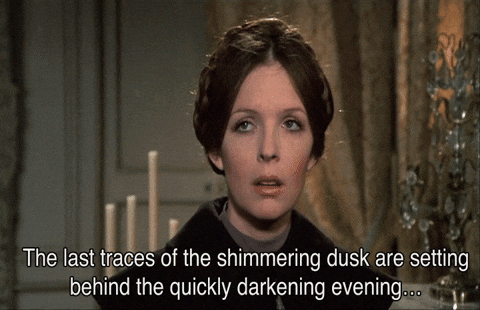 I am not a huge fan of early set evenings, but I must say that I am looking forward to having some early sun rise in the morning. This is because I mostly take the bus now and before 7 am or so, it is dark and it makes waiting in an open bus stop as a single female difficult and annoying; each car honking, each car slowing down while coming on my way, or each person walking on the street makes me quite aware of the possibility that an unwanted approach may happen much easier in the dark than in the light. It is not fun. But now that the daylight savings started, I may get to take even 6.30 am bus should I want it. This feels good 🙂
————————————————————————————————————-
Have I mentioned that I have been back to my frugal self in the last three months, and I have saved quite a bit of money as a result? What a fantastic experience 🙂
I cut my cab and junk food expenses, and voila – it shows very nicely in my purse and chequing account. It feels amazing to have a positive chequing account and not worried about loaning money to pay the credit card balance. I also feel like I will be able to make a pre-payment in late December – I am really am looking forward to this. I know that it will make me feel great about myself.
These being said, some weeks are better than others in terms of savings. Like this week. I have had unexpected expenses this week. A friend saw me walking on the road, picked me up, and offered to have dinner together. We enjoyed it very much but the money I needed to use to pay the bill – which was luckily divided into two – was something that I could rather spend on some necessary expenses, such as a hair cut. Also, I needed to shop and get some coffee and canned food this weekend. While on it, I also bought other items – of course – such as notebooks, stationary items, and whatever else I feel like I would need or enjoy. So, it is true that once you open the purse, it stays open!! For sure.
Thus, the best to keep saving money is to keep the purse closed, except for those expenses that you know you will and budget for.
I hope to be able to do better in the coming weeks.
Have a great Sunday everyone! —————————————————————————————–
gifs by:https://giphy.com/gifs/star-stars-white-ZY948iAhIIB4mJXlmx;https://giphy.com/gifs/double-take-shocked-paul-rudd-K0Mmal97YNYkw;https://giphy.com/gifs/hd-savings-daylight-qtfHTDi8GF1f2;https://giphy.com/gifs/90s-clueless-cher-horowitz-MEgGD8bV72hfq